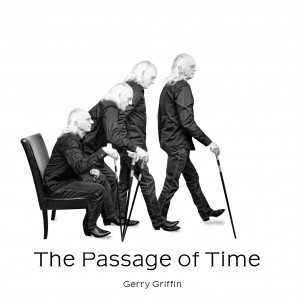 Gerry's new CD, "The Passage of Time", is a genuine artistic achievement, translating the imagery of passing time into the sonic realm through the use of the entire spectrum, from thundering low bass to the highs of cymbal bells and thumb piano.
The 10 song project was composed, arranged, recorded and mixed by Gerry in his cottage on McGregor Lake in Val-des-Monts, QC, and showcases not only his song writing and production abilities, but also his musicianship.  In addition to voice, various guitars and Turkish saz, he appears as his own sideman, adding harmonicas and lap steel on many of the songs.
"The Passage of Time" is a journey through the political, social, economic and emotional moments of Griffin's witness to life.  The music weaves masterfully through the lyrics, seductively underpinning their message.   He knits the subjects of love and hope among those of abandonment and alienation. Through it all, he never gives up on humanity and concludes with a tribute to what may be the greatest gift of all, friendship.
Tracks (click to see production details and lyrics)
The Passage of Time
The Eye of the Storm
Here's to the Boys
Just a Little Bit of Rain
Not Noticing
I Can't Believe (I Could Fall in Love Again)
One Night in a Hotel
The Ultimate Solution
War (Warning: strong language)
That's What Friends Are For
Composed, produced, recorded and mixed by Gerry Griffin at Renegade Music Studio, Val-des-Monts, QC
Mastered by Richard Addison at Planet Studios, Montreal, QC
Assistant:  Dimitri Condax
Cover design and photography by Kate Morgan at Constant Sound Studio, Ottawa, ON
Musicians:
Gerry Griffin:  lead vocals, background vocals, saz, acoustic guitar, electric guitar lap steel guitar and programming
Heather Houston:  background vocals, thumb piano, Appalachian dulcimer
Cara Griffin:  background vocals
Alison Gowan:  hurdy gurdy
Andy Roberts:  upright bass
T. Bruce Wittet:  drums
Terry Tufts:  baritone acoustic guitar, 12-string acoustic guitar, Dan-bro "banjo" part
Richard Ewald:  electric bass on "Here's to the Boys"
Scott Donnelly:  drums on "Here's to the Boys"
John Dymond: electric bass on "Just a Little Bit of Rain"
Miche Pouliot:drums on "Just a Little Bit of Rain"
Bruce Wittet on drums …
Our "ace of bass" – Andy Roberts …
Alison Gowan playing hurdy-gurdy …