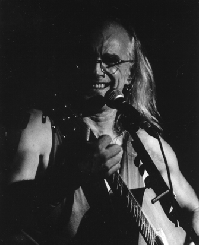 Born in Vancouver and raised in Deep River, Ontario, Gerry learned to play the harmonica at the age of 7 then the guitar and vocals at age 15 when he formed his first band. He has been performing as a professional musician ever since.
First and foremost, Gerry is a songwriter. He began performing only his own material in 1989. His strongest influences are Captain Beefheart, Ry Cooder and the traditional songs of every genre (blues, country, reggae, Spanish and African music).
Gerry's first album "Hour Glass" was recorded "live off the floor" at Lakeside Studios in Clayton, Ontario, in July of 1995 with his band, "Griffin". The album was produced by Jeffrey Lesser who has worked with Lou Reed, The Chieftains and Barbra Streisand. The CD was released in 1996.  It is a collection of songs that form the incredible diary of his wrongful incarceration for two and a half years in the North African and Spanish prison system in the early 1990's.
His second CD, Moment to Moment was recorded and produced by Gerry at Renegade Music, the studio he built in Val-des-Monts, Quebec; it was released in April, 2010.  It is an acoustic presentation of the songs, recorded with his partner, Heather Houston.  His third, "The Passage of Time", again a full band production, was released in June, 2013.
Gerry Griffin (Interview in French)
By Serge Moulis, Published in Le Cri du Coyote, No.129, July/August, 2012
By Kevin McGowan and Steve Fouchard, June 2013 (Video interview with live performances.)
*********************************
Gerry's band experience includes:
* Cain, original music rock band – 1969 to 1972
Cain was a full time touring band on the same circuit as Whiskey Howl and Crazy Horse.  Highlights were performing Canada Day on Parliament Hill and opening for Iron Butterfly and The Paul Butterfield Blues Band. Cain was also the after-hours house band at Ottawa's legendary "Le Hibou" folk café for over a year.
* Dah Acme Stomperz and Jaws of the Flying Carpet.
Both these bands were experimental music groups in the seventies and eighties heavily influenced by Captain Beefheart and Frank Zappa. They performed both original and cover material.
* The Blue Angels
Ottawa's most popular blues band throughout the eighties; here was always a lineup for their shows. They opened for the Nighthawks, Albert Collins, and John Hammond and influenced every up and coming blues musician in the greater Ottawa area.
The harmonica is the instrument on which Gerry is the most proficient.   Since the early 1970's, he has been requested by touring groups for his tone and for his technique in both live performance and studio sessions. He has performed with many greats, including the Great Speckled Bird, Long John Baldry and Willie Dixon.
Gerry began performing only his own original material in 1989, first with his band "Rodeo Active" and then with "Griffin".
After recording, "Hour Glass", he and "Griffin" showcased at UltraSound Showcase Bar in Toronto, August, 1996, and at the North American Folk Alliance, Toronto Conference in February, 1997. Their final performance was July 1997 at the National Capital's Astrolab Theatre.
Since July 1997, Gerry has presented his material with his partner, Heather Houston. They toured Canada full time and together have played festivals, concerts and club engagements from coast to coast until April 2001.
Performance Highlights
Winnipeg Folk Festival, Winnipeg, MB (July, 1996 and 1997)
North American Folk Alliance, Toronto, ON (February, 1997)
South Country Fair, Fort Macleod, AB (July, 1997 and 1998)
The Black Sheep Inn, Wakefield, PQ (June, 1998 and February, 2002)
Nickelodeon Folk Club, Calgary, AB (September, 1998)
(opening for the Mollys)
Barrymore's Music Hall, Ottawa, ON (April, 1999)
(with Willie Dunn and Malaika)
West End Cultural Centre, Winnipeg, MB (May, 1999)
The Marquee, Halifax, NS (February, 2000)
Summerfest, Deep River, ON (August, 2006 and 2008)
Festival in the Pines (Camfest), Douglas, ON (May, 2005, 2007, 2008, and 2010)
Ontario Council of Folk Festivals (Alternate Showcase Artist), October 2012
Throughout his music career, Gerry has worked in the recording world. He has recorded his own material with or without a band on his own equipment and in commercial studios; he has worked as a sideman on countless recording projects for other artists. Therefore, the move to production was inevitable.
His first soundtrack, for the documentary film, "Life on the Heater," was nominated for a Canadian Gemini award (2001) in the "Best original soundtrack in a documentary" category; and his first production for another artist, "Fair is Fair" for singer/songwriter Peggy White, cracked the top 100 on the Americana Music Chart in the U.S. a couple of months after it was released in February 2003.
In May 2002, Gerry opened a custom-built production studio under the name of Renegade Music.  Co-owned with his partner, Heather Houston, he is producer and head engineer.  They have released two full length CD's:  2010's Moment to Moment and their current release (2013), "The Passage of Time".